Sh Ch WITHIFLOR ROLLING STONE JW


Sire: Sh Ch Canigou Rock Star
ex Dam: Sh Ch Canigou Storytime at Withiflor JW
DOB: 28.06.2013
Photo: Shel Cowles - West of England Ch Show 2019
**Awarded CC at Crufts 2015 - Judge Phil Young (Canyonn)**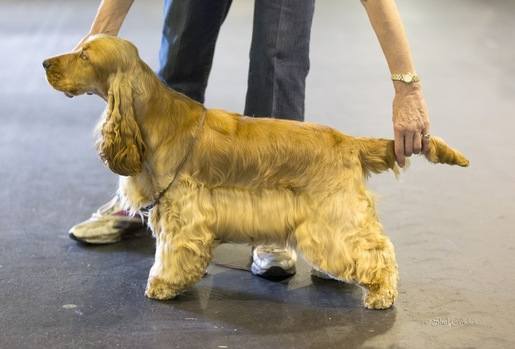 Photo by Shel Cowles at Paignton Ch Show 2014
This young dog, of good type and temperament, is available at stud having sired a litter of six pups to W Shiny Boots , born 21.04.2016;
Roly is a gentle soul who will take time to settle to the task, but we hope he will pass on his qualities.
PRA and FN Hereditary clear
AON and AMS clear
PRA and Gonioscopy tested clear October 2019;
Hip Score 7:4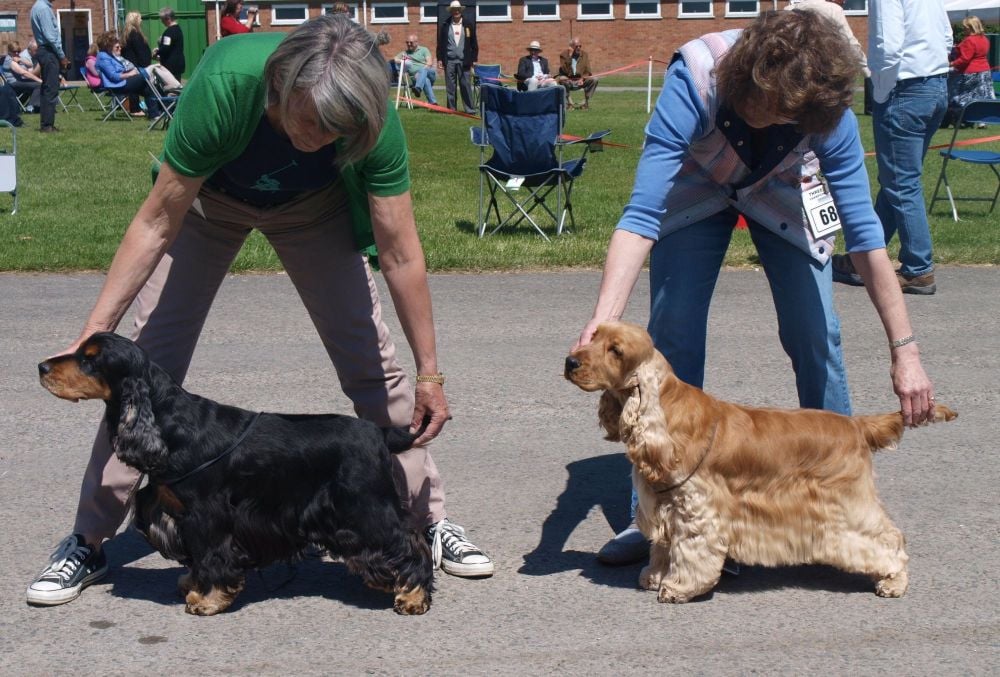 ...at Three Counties Ch Sh 2015 with his sire, Sh Ch Canigou Rock Star..
this day, Les Forfar awarded Roly his 3rd CC and BOB
Judges' Critique:
"Ellison's Withiflor Rolling Stone. A beautifully balanced Golden at the
top of his game. Gentle, but undoubtedly masculine head and expression.
Absolutely correct length of neck in to the best of well laid
shoulders. Big ribbed, short, deep body. Well boned legs with the best
of thickly padded feet. Very well presented in superb coat and
condition. Moved confidently with reach and drive. It was my pleasure
to award him his 3rd CC and later BOB."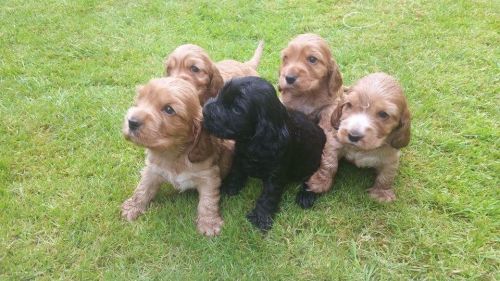 Pups sired by Roly - Spring 2017
---
PEDIGREE :
Sh Ch Canigou Rock Star

Sh Ch Asquanne's Gillespie

Sh Ch Asquanne's Gonzales

Faymyr Chickadee Tan Spats

Burlough BUck

Cleopatra of Faymyr

Sh Ch Asquanne's Ghia

Sh Ch Quettadene Emblem

Sh Ch Asquanne's Genevieve JW

Sh Ch Asquanne's Georgette

Sh Ch Quettadene Discretion

Sh Ch Perrytree The Dreamer

Sh Ch Quettadene Modesty

Sh Ch Asquanne's Giorgio

Sh Ch Asquanne's Gonzales

Kendrick Kandice of Asquanne

Sh Ch Canigou Classic Rock

Sh Ch Claramand Rock-n-Roll with Molkara

Claramand The Man in Black

Claramand Hotshot JW

Sh Ch So Sad Cinderella of Claramand

Paisley's quite a bit of Claramand

SuCh Claramand B'Serious

NuCh Paisley's Jewel of the Night

Sh Ch Canigou Classical

Sh Ch Canyonn Classic Gold

Quettadene Footsteps

Sh Ch Canyonn Celeste

Canigou Camisole

Sh Ch Canigou Cambrai

Cornbow Virginia by Canigou

Sh Ch Canigou Storytime at Withiflor JW
Dob 20.10.2009

Hereditarily clear: PRA and FN

CC Crufts 2012

CC and BOB Crufts 2013

Sh Ch Weirdene Winning Sweep
clear: PRA and FN

Weirdene Sunglint

Weirdene Western Timothy

Lochdene Sebastian

Weirdene Gilder Rose

Weirdene Wild Panzy

Weirdene Winagain

Weirdene Crystal

Weirdene Will be News

Weirdene Winagain

Sh Ch Asquanne's Gonzales

Weirdene Waki Gold

Weirdene Wishful Thinker

Beligar Walsh of Weirdene

Weirdene Whim Wham

Canigou Tail Me Story RCC clear: PRA and FN HIP: 8/6

Sh Ch & Spanish ChHelenwood Technique

Sh Ch Kendalwood Campaigner

Sh Ch Asquanne's Gonzales

Kendalwood Cointreau

Helenwood Chances Are

Lujesa Copper Kettle at Helenwood

Polarmoon Celtic Magic at Helenwood

Sh Ch Canigou Classical

Sh Ch Canyonn Classic Gold

Quettadene Footsteps (1CC)

Sh Ch Canyonn Celeste

Canigou Camisole

Sh Ch Canigou Cambrai
iBIS Crufts 1996

Cornbow Virginia by Canigou 4 RCC's
Cick HERE to return to top of page