Litters planned for this year
LITTERS PLANNED

For enquiries, please email [email protected] or phone Sally - 01460 62871
Matings are carefully planned, with great emphasis on health, temperament and good cocker type.
If you are looking for a very special addition to your family or a puppy suitable for the show ring, then do contact me and we can discuss your needs.
Overseas enquiries : a limited number of litters are planned during a year - from which a puppy will to be kept for Show;
without the facilities to "run-on" a number of pups, it is impossible to make promises and keep a puppy until four months old
in order to comply with vaccination requirements for the continent. Enquiries will, therefore, only be considered on a very limited basis.


2022 Puppies
There may be puppies some time during Mid-Summer to end of 2022 -
If you are looking for a Show-type Cocker you should be aware that the number of puppy enquiries being made this past 18 months, the demand for which continues,
has been quite "unprecedented".

The Cocker Spaniel is one of the most popular breeds - reflected by the number of puppies being bred and registered by the Kennel Club
- the high proportion of registrations will include puppies bred by breeders of Working Cockers, breeders who have a genuine affinity
for the breed but who do not wish to show or work their dogs - and "others".
Cocker enthusiasts who Show and breed, who are the guardians of the Breed Standard, who are on top of any on-going recognised
aspects of health issues in the Breed and who generally form the Breed Club membership, will breed to improve their stock and
keep a puppy themselves for Show; long gone are the big Show kennels with numbers of breeding bitches, consequently you will
find that we may have only one or two litters a year - and then we cannot guarantee the numbers of pups born.
Licence requirements now imposed by Government/Local Authorities mean that many breeders with small show kennels, who breed an occasional litter,
will have decided to give up and save the bother.
We are therefore receiving a greater demand than there is a supply of puppies and we are having to disappoint many genuine enquiries.
Inevitably there will be those people who, without any knowledge or thought for the wellbeing of the Breed, think it is a good time to
benefit financially from the high demand for puppies; there are some amazing prices - which, presumably, people are paying !
So, be very careful !
The Cocker Spaniel Club website – www.thecockerspanielclub.co.uk - lists all the Regional Clubs in the UK together with their contact details.
Initially, you should carefully research the Breed before you start making enquiries -
make those enquiries when you are actually ready to home a puppy and be prepared to wait;
limit your colour requirement to either Solid or Parti-colour; do not be too specific;
You should allow for the fact that Breed Club secretaries are receiving many enquiries, be patient, persistent and prepared to travel.
You will be able to rely upon any recommendation of a breeder via a Breed Club.
---
Valentine's Day Puppies
14.02.2020


Sh Ch Lujesa Impossible Dream ex Withiflor Science Fiction (by Sh Ch Canigou Rocket Science)
Pups at three weeks
---
Paris and Roly's pups - born 22.10.2019
Sire: Sh Ch Withiflor Rolling Stone

Dam: Withiflor Book Worm

Pups - Withiflor Jack the Lad and

Withiflor Tiny Dancer

hopefuls for the show ring in 2020..
Pip and Jack at nine weeks
---
Blondie' pups by Sh Ch Canyonn Classic Illusion
DOB 23.12.2016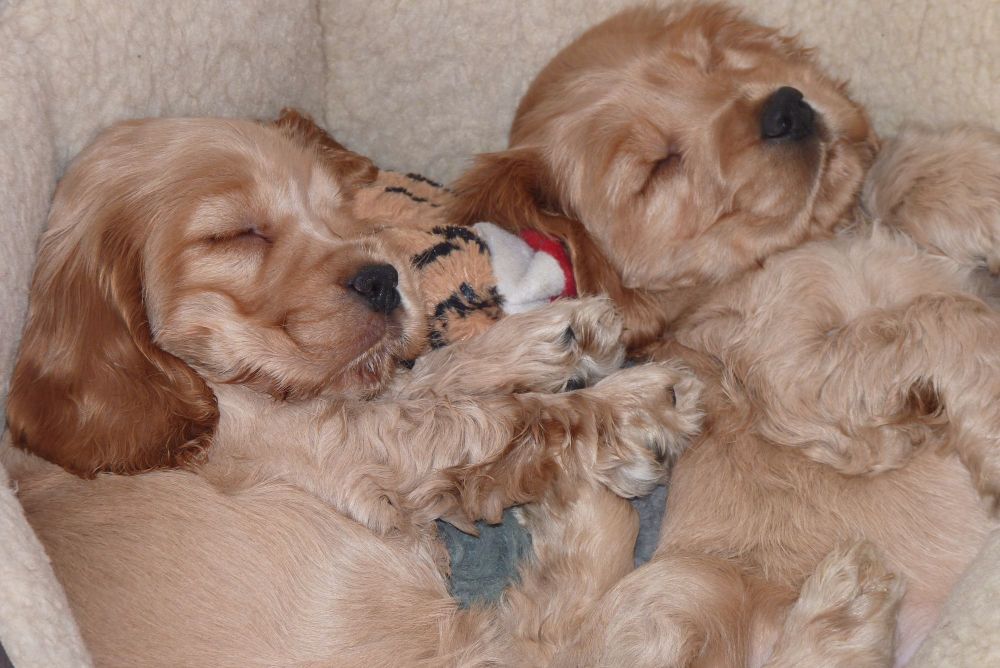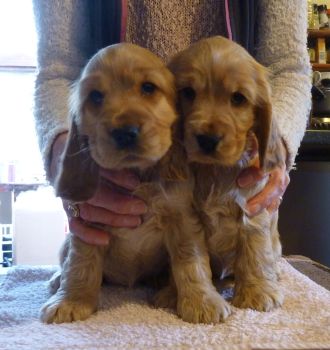 Sisters - Withiflor Book Worm and
Withiflor Fairy Tale
destined for a show career - we hope !
---
Spring 2016


Sire: Sh Ch Withiflor Rolling Stone JW
Dam ; Withiflor Shiny Boots
(by Sh Ch Charbonnel Swedish Design ex Withiflor Shining)
| | |
| --- | --- |
| | |
| Four days old | Two weeks old |
---
Summer 2015
Sh Ch Canigou Storytime at Withiflor JW
puppies by
Sire - Sh Ch Canigou Rocket Science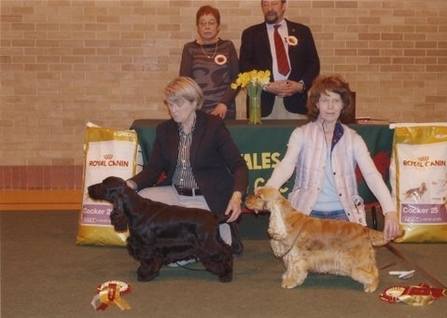 DCC and BCC at S Wales & Mon 2012
' Rocket Science and ' Blondie
| | |
| --- | --- |
| | |
| 24 hours - and doing well | end of week one - go to "Blondie - Chapter 4" for progress |
---
2014 Summer Puppies




Sire:

Sh Ch Sharemead Golden Syrup
(on the left - my left !)
with Sh Ch Lindridge Ticket to Ride
winners of CC and RCC respectively
at North Wales Ch Show

Dam: Withiflor Shiny Boots


Sire: Sh Ch Sharemead Golden Syrup ex Withiflor Shiny Boots (by Sh Ch Charbonnel Swedish Design)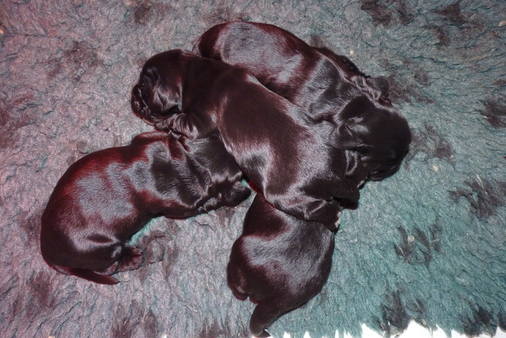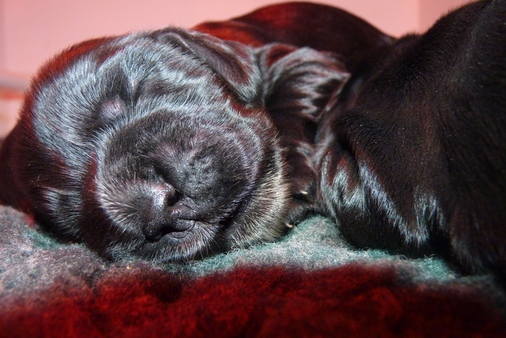 ...at one week old....yummy !
---
Spring (April 2014)

Sire: Sh Ch Charbonnel Life N' Times ex Withiflor Blunique (by Sh Ch Lindridge Star Quest)
---
Puppies 2013
See Blondie's page - Chapter 2 - the Roc Chics



Blondie's litter:




Sire: Sh Ch Canigou Rock Star ex




Dam: Sh Ch Canigou Storytime At Withiflor JW




Lovely litter of six pups - three golden and three




black and tan
---
Puppies 2012:
Dam: Withiflor Blunique
(Blue roan - aka Whitney by Sh Ch Lindridge Star Quest ex Withiflor About a Blue)
Sire: Sh Ch Joaldy Mandolin Wind
Click
HERE
to return to top of page