Chapter 3 - The Rock Chics
| | |
| --- | --- |
| | |
| Withiflor Blessings (Bea) | Withflor Wheels on Fire (Tiffany) |
Photos at 8 weeks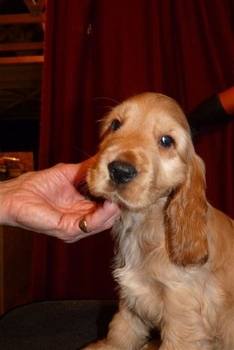 Withiflor Rolling Stone (Roly)
Tiffany @ 13 weeks
..she is beginning to show the traits and
personality of her mother !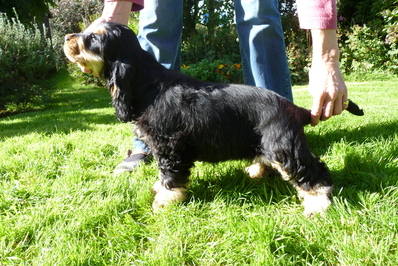 Tiff' at 13 weeks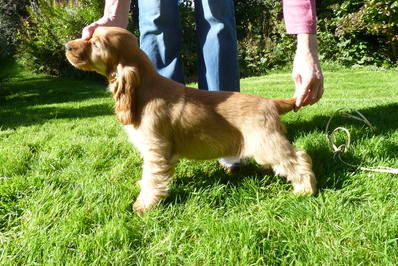 Bea at 13 weeks
"Blessings on thee, dog of mine...
Pleasures wag on in thy tail..."
E Barratt Browning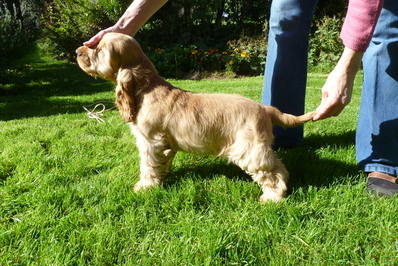 Roly at 13 weeks
South Wales & Mon - Open Show 09.11.2013

- a first outing for Roly - enjoyed meeting folk and performed well in the Puppy Walk - presented with his first Rosette !!
---
PEDIGREE : DOB 28.06.2013
Sh Ch Canigou Rock Star

Sh Ch Asquanne's Gillespie

Sh Ch Asquanne's Gonzales

Faymyr Chickadee Tan Spats

Burlough BUck

Cleopatra of Faymyr

Sh Ch Asquanne's Ghia

Sh Ch Quettadene Emblem

Sh Ch Asquanne's Genevieve JW

Sh Ch Asquanne's Georgette

Sh Ch Quettadene Discretion

Sh Ch Perrytree The Dreamer

Sh Ch Quettadene Modesty

Sh Ch Asquanne's Giorgio

Sh Ch Asquanne's Gonzales

Kendrick Kandice of Asquanne

Sh Ch Canigou Classic Rock

Sh Ch Claramand Rock-n-Roll with Molkara

Claramand The Man in Black

Claramand Hotshot JW

Sh Ch So Sad Cinderella of Claramand

Paisley's quite a bit of Claramand

SuCh Claramand B'Serious

NuCh Paisley's Jewel of the Night

Sh Ch Canigou Classical

Sh Ch Canyonn Classic Gold

Quettadene Footsteps

Sh Ch Canyonn Celeste

Canigou Camisole

Sh Ch Canigou Cambrai
BIS Crufts 1996

Cornbow Virginia by Canigou

Sh Ch

Canigou Storytime at Withiflor JW


Dob 20.10.2009
Hereditarily clear: PRA and FN
CC Crufts 2012


CC and BOB Crufts 2013

Sh Ch Weirdene Winning Sweep

clear: PRA and FN

Weirdene Sunglint

Weirdene Western Timothy

Lochdene Sebastian

Weirdene Gilder Rose

Weirdene Wild Panzy

Weirdene Winagain

Weirdene Crystal

Weirdene Will be News

Weirdene Winagain

Sh Ch Asquanne's Gonzales

Weirdene Waki Gold

Weirdene Wishful Thinker

Beligar Walsh of Weirdene

Weirdene Whim Wham

Canigou Tail Me Story RCC

clear: PRA and FN
HIP: 8/6

Sh Ch & Spanish Ch
Helenwood Technique

Sh Ch Kendalwood Campaigner

Sh Ch Asquanne's Gonzales

Kendalwood Cointreau

Helenwood Chances Are

Lujesa Copper Kettle at Helenwood

Polarmoon Celtic Magic at Helenwood

Sh Ch Canigou Classical

Sh Ch Canyonn Classic Gold

Quettadene Footsteps (1CC)

Sh Ch Canyonn Celeste

Canigou Camisole

Sh Ch Canigou Cambrai
BIS Crufts 1996

Cornbow Virginia by Canigou
4 RCC's
Click HERE to return to top of page