Puppies
Withiflor Puppies
from the best...for the best
Withiflor is a small kennel, rearing one or two litters a year, with the aim of
producing sound and healthy puppies of
good show cocker type, in accordance with
the Breed Standard and temperament to
meet their intended lifestyle;
be it in the Show ring or family pet.

As a member of the Kennel Club's
Assured Breeder Scheme, the kennel
has been successfully inspected and
meets with the requirements of the Scheme.
Health checks are carried out on all breeding stock
with help and advice given to new puppy owners
upon collection of their puppy
Follow-up advice is always available to owners of Withiflor cockers
as and when they need it.
New puppy owners will receive a comprehensive Puppy Pack including specific breed advice,
feed chart, health records, Kennel Club Registration papers, insurance and sales agreement.
If you would like to discuss puppy availability – CONTACT Sally phone 01460 62871 or email: [email protected]
The following photos are examples of puppies bred at Withiflor.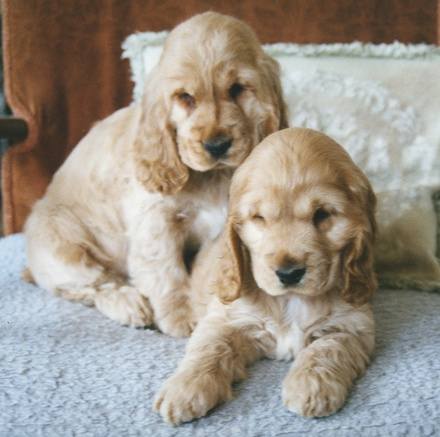 "...luv my bro..."
Lovely armsful......
Click HERE to return to top of page