W Rolling Stone
WITHIFLOR ROLLING STONE JW
Show Champion
Sire: Sh Ch Canigou Rock Star ex
Dam: Sh Ch Canigou Storytime at Withiflor JW
DOB: 28th June 2013

"We long for an affection ignorant of our faults.
Heaven has accorded this to us in the uncritical canine attachment"
George Eliot (1819-1880)
Exeter & County Canine Society
20th September 2014
Judge: Frank Borg (Breed and Group Judge)

Roly - on his way to Best in Show
under David Cavill

Judges' critique:..."...stunning well balanced red dog,
plenty of bone and sutstance, nice reach of neck,
excellent front assembly, bone and feet, strong firm
well ribbed body, strong hindquarters which he
used to his advantage in his through action movement,
very well presented and in good condition - BOB and G1
and very pleased to later see this lovely dog go BIS;

Group - ...further to what I've already said above, this
dog kept catching my eye, never setting a foot wrong and
showing his socks off till the very end; proved me right by
trotting all the way to BIS later on.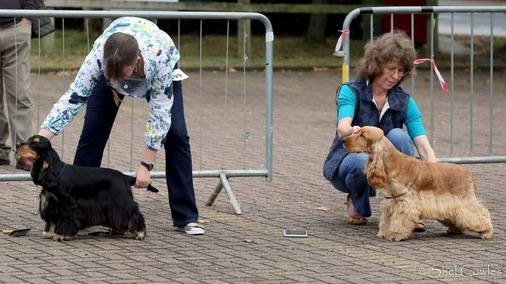 BOB challenge with his sister
Withiflor Wheels on Fire (Tiffany)
Cornwall Gundog - 27th September 2014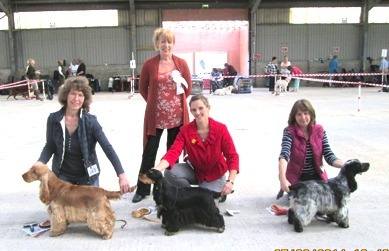 left to right
Roly BOB; TIffany RBOB and
BP - Chativore Calico Sky over Gilcar (Gill Birkenshaw)
Judge : Gill Pearce-Gudger
Roly went on to win RBIS under Judge: Julian Barney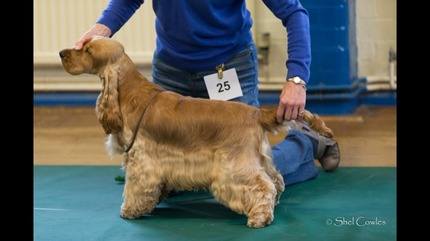 West of Eng Cocker - 12.10.2014


Smart boy !
26.11.2014 - KC confirmed - Junior Warrant

Roly's success in the ring, so far:
20.09.2014 Exeter & County Canine Society - BOB, Group 1 - Judge: Frank Borg
BEST in SHOW - Judge: David Cavill
29.09.2014 Cornwall Gundog - BOB - Judge: Gill Pearce-Gudger
RESERVE BEST IN SHOW - Judge: Julian Barney
24.01.2015 Newton Abbott & S Devon Canine Society - BOB - Judge Debbie Driver
Group 4 - Judge: Mrs Vicky Clarke
08.02.2015 Hants & Sussex Cocker Spaniel Club - Judge: Lucy Reader
BEST IN SHOW

Crufts - 05.03.2015
Judges - Phil Young (Canyonn) Dogs
Michael Masters (Manchela) Bitches
Dog CC and RBOB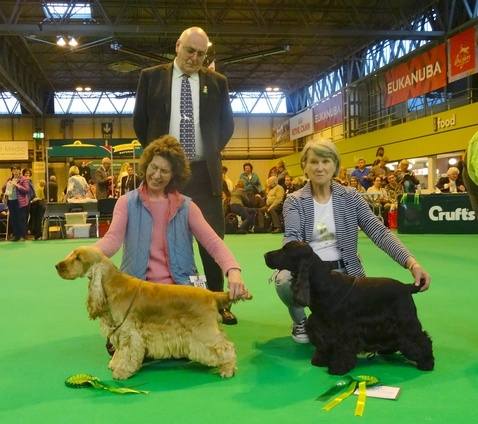 A wonderful, exciting, day with Roly winning his first CC
with Phil Young (Judge)
and Tricia Bentley
with Sh Ch Canigou Rocket Science (Roly's Uncle !)
winning the Reserve DCC
Photos - Judith Craig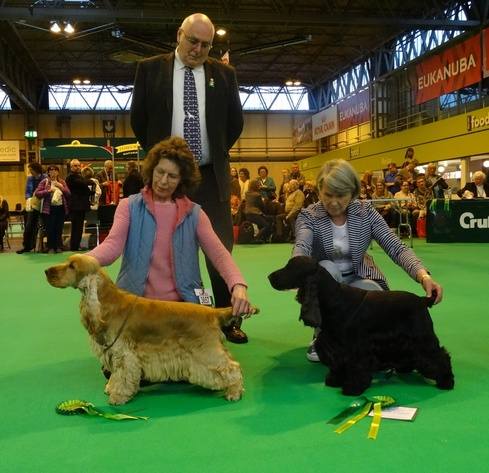 ...go to "Crufts 2015" for more photos...
19.04.2015 - The East Anglian Cocker Spaniel Society

2nd Yearling Dog - RCC Judge: Mrs J Rowland (Perrytree)
26.04.2015 - WELKS - 1st Yearling - RCC - Mark Boswell (Marquell)
31.05.2015 - Cheshire Cocker - 1st Yearling - CC and RBIS - Mrs GE Goodwin (Sarabar)
Three Counties 07.06.2015 - Judge : Les Forfar (Glasedin)
Withiflor Rolling Stone JW - 1st Yearling Dog - CC and BOB
SH CH Withiflor Rolling Stone JW DCC

and

Sue Kettle with

Lujesa Obrigada BCC

Photo Ian Scott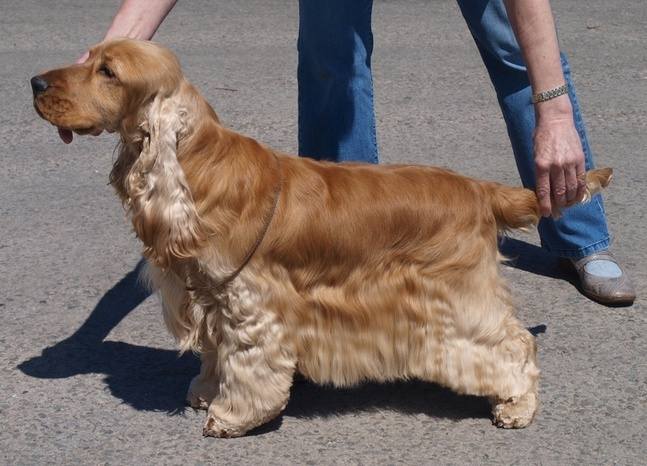 ....My Beautiful Boy...
taken by Ian Scott after winning his Third CC
at Three Counties Ch Show 7th June 2015
Judge: Les Forfar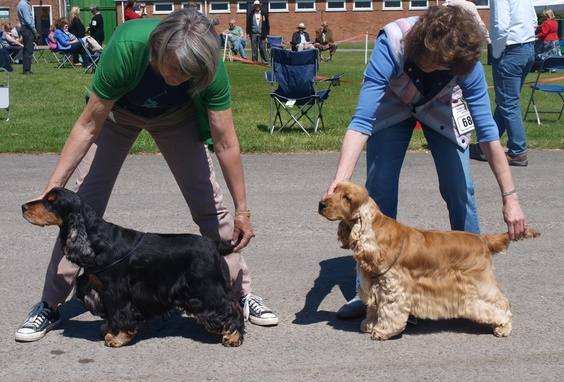 Sh Ch Canigou Rock Star (Dad)... Sh Ch Withiflor Rolling Stone JW (Son)
(subject to KC Confirmation)


Windsor 04.07.2015
Judge: Geof Parkin (Mistfall)
Roly winning RCC
with Sh Ch Veratey Vincenzo at Cassom JW winning the CC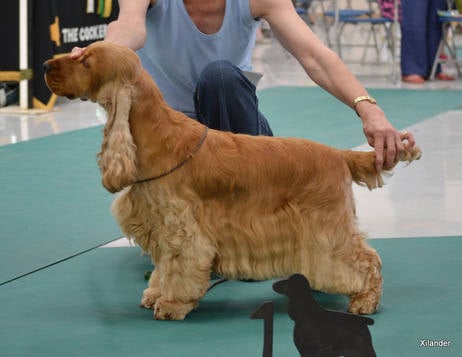 Roly winning 1st Limit Dog at The Cocker Club
Judge Michael Parkinson


lovely photo Anita (Xilander)
Crufts 2016
Judge: Mrs Barbara Critchley (Whipspan)
2nd Open Dog
South Wales & Mon Ch Show - 26.03.2016
Judges : Jane Mitchell (Glowhill) Dogs; Bea Robertson (Bitches)
Referee: Roly Webb (Speechouse)
CC and Best in Show (Ref's decision)
(below)
City Of Birmingham Ch Show - 04.09.2016
Judge : Mrs A Hackett (Lindridge)
CC and Best of Breed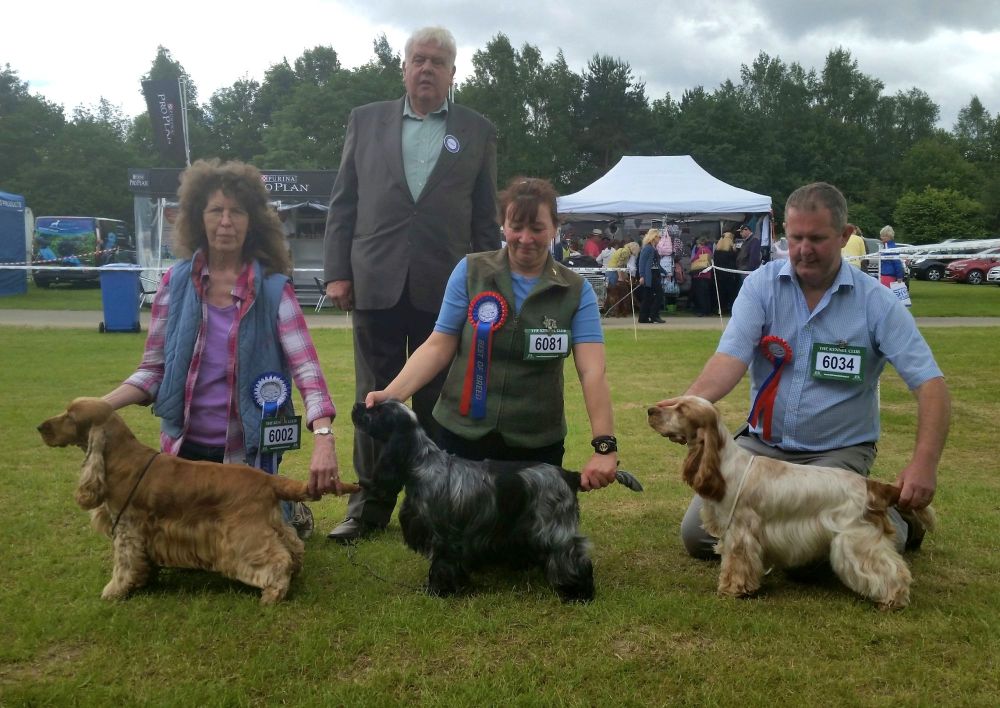 Southern Counties 04.06.2017
Judge: Mr D Moss
(left to right)
Sh Ch Withiflor Rolling Stone JW - Dog CC and BOS
Sh Ch Annilan Miss SIng - Bitch CC and BOB
Manchela Where the Heart Is - Best Puppy (also Gundog Puppy Group 1)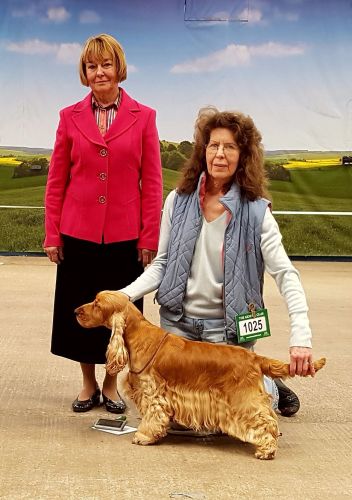 Gundog Society of Wales - 11.10.17
Judge: Mrs P Williams
Sh Ch Withiflor Rolling Stone JW
2nd Open Dog and RCC
Click HERE to return to top of page