Cocker Spaniel Club of Slovakia
Cocker Spaniel Club of Slovakia
20th May 2018
Judging this Club Show was a wonderful experience and
I have to thank Alex and Eva Felszeghy for looking after me during my stay in Bratislava.
On the day, the Stewards were excellent and thank goodness they spoke English !
Glorious weather, excellent dogs of good type, presented in marvellous coat and hard, well muscled, condition -
a credit to their owners who accepted my decisions and placings in good spirit.
The winners......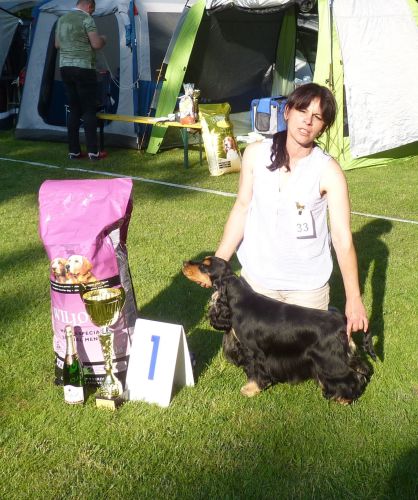 Best in Show (above)
Xisa Z Chalupecke Loucky
Sire: Lochranza Fly with Seaguls (by Sh Ch Quettadene Copper Glow)
ex Balantine Tarakim
Best in Show and Best Opposite Sex (Below)
Vigorrus Velvet Goldmine
Sire: Flyers Quintus
ex Borodina Tamara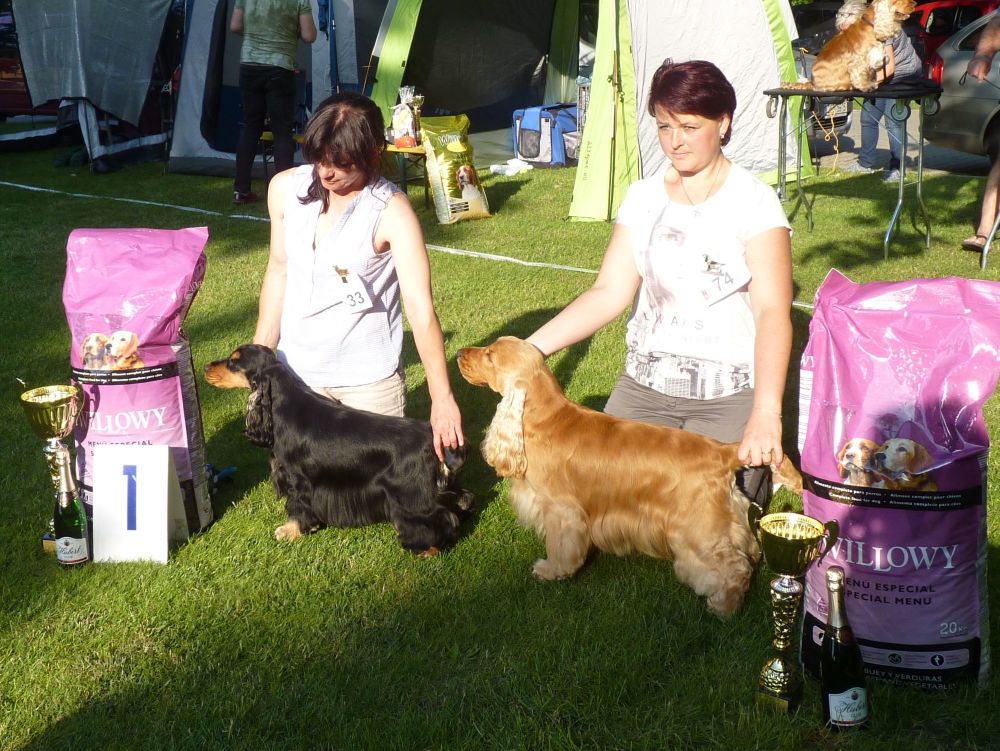 Sorcery's Christmas Knight (left)
Sire: Quettadene Wild Oats
ex Fuzburki Rambling Rose
winner of Black Veteran
this dog is 14 years old -
he is amazing ! the only hint of his age was his white
face and a missing tooth: shown in excellent coat and hard
condition, he has all the qualities and construction of a top class dog and
moved with the enthusiasm of a four year old !
Minor puppies (left) just over four months old ! the overall winner was the black bitch - Shining Star of Westray:
(Right) Puppy winner Royal's Friend ECS Vision of Infinity - by Courtmaster Blue Blizzard
Prizes galore for the winners.....
Black Bitch classes (below - left to right)
Junior - Intermediate
Open - Working
...particularly impressed with the Junior bitches (top left) ...
Champion - Minor Puppy (below - left to right)
...my final Best in Show winning the Champion class....
I was delighted to find this black and tan cocker of excellent type, and so early in the day -
I could not find anything any to beat her; from her head to tail, she is compact, balanced and
well boned; with good angulation ; well ribbed and deep chested; with firm,
muscled quarters; sound, exhuberant movement with excellent presentation to complete the picture.
Colour Classes - Dogs
(left to right)
Puppy - Junior
Intermediate - Open
Working - Champion
Champion Class (above right)
1st Dajbogova Principe Aeogon First - sire: ICH Lindridge Bolt from the Blue
2nd ICH Lindridge Bolt from the Blue - sire: Sh Ch Lindridge Star Quest
Colour Classes - Bitches


Junior - 1st Manjuno's Famous Poem (left)
and Intermediate - 1st Manjuno's Fifty Shades of Grey (right)
Open (left) - 1st No Limit Esqueen
Working Class (roght) 1st Carroline Certe Comitia
Champion Class (above left) - 1st Victoira's Secret Esqueen (Sire: Sh Ch Veratey Vincenzo at Cassom)
Honour Class (above right) - 1st Manjuno's Beauty Fame
Veteran Class (below) - 1st Bangee Black Petrs
Unicolour classes:
Dogs (red/golden)
Puppy Class (left) -
Junior Class (right) - 1st X-Clusive Sant Tulip
Open Class - (above left) - 1st Vigorrus Velvet Goldmine (BOS)
Working Class - (above right) - Rando Back Petrs
Champion Class - (left) - 1st Athina's Product PR Executive
Bitches (Red/Golden)
Minor Puppy Class (left) - 1st Autumn Mircle Dark N'Stormy
Junior Class (right) - 1st Xenia Blue Valley of Dogs
Intermediate Class (middle left) - 1st Tara Od Bukove Studanky
Open Class (middle right) - 1st Ciklon Veil of Mystery
Honour Class (bottom left) - 1st Athina's Product Key to your Heart
Veteran Class (bottom right) - 1st Balantine Tarakim