Making Progress
...from the planning to the finished product ... possibly !!

January 2013 - here is one we made earlier.....
10 week dog puppy


---
The Roc Chicks at the start of 2014..

...now six months old, Roly and Tiffany have attended their first show and
behaved themselves well enough to gain a prize card in the Minor Puppy
classes at Hants & Sussex Ch Show.
Here are W Rolling Stone (aka Roly, above) and W Wheels on Fire (aka Tiffany, below)
...grooming - before the show !
26.01.2014 - at West of England Open Show... (below)
Photos with kind permission of Shel Cowles.
Roly (above) - doing the Withiflor...!
and smart Tiffany, below !
Roly - "lovely boy !" May 2014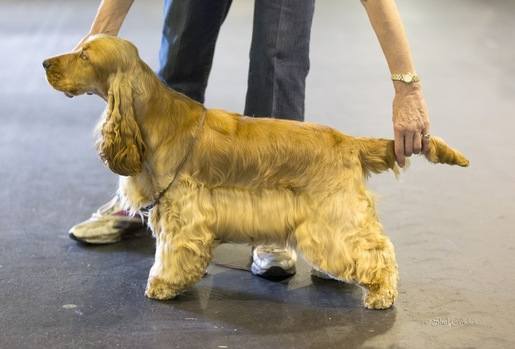 photo by Shel Cowles - taken at Paignton Ch Show 2014
winning the Junior class
- promising young dog -
...and here is Bea...

...I wonder who is having the

most fun !!

.

...there are boundaries !...

.....new mates !.... have a lovely

life, Bea..
---
Withiflor Blusuade (Sven) top -
and Withiflor Mille Feuille (Millie)
at four months
Sire: Sh Ch Charbonnel Life 'N' Times ex
Dam: Withiflor Blunique (RCC)
Sven (AKA Withiflor Blusuade - now known as "Jenson")
at his new home with Trevor and Evelyn,with his new mate, Blue:
............have a lovely life, puppy !
---
Millie [aka Withiflor Mille Feuille) at her first show
WEST OF ENGLAND COCKER 12.10.2014
...who's a spoilt girl !
looks as though Tiff' has settled in
with Jo, Steve and their cocker family.....
Withiflor Ellie Boots on holiday in Cornwall - May 2015
---
2016
Withiflor Pure Fiction
(Spanish Katie !)
April 2016 - 7 months and looking promising....
Withifor Paperback Writer
April 2016
Withiflor Science Fiction at eight months
...time will tell ...
...success for W Paperback Writer in Slovakia - May 2016 - congratulations...

W Pure Fiction - winning well at her second show ! (above)
and ....at her third show !


CCJ & BEST JUNIOR & BOS
12.06.2016
Withiflor Paperback Writer

CAJC & Best Junior &

Grand Prix Slovakia Junior Winner'2016 & Best of Opposite Sex
Withiflor Science Fiction [Jess]
August 2016
---
Spring 2017
and the caption is........................
[Skyla, above - Paris, below]
The Cocker Club Ch Show 2017
W Fairy Tale - 1st Minor Puppy Bitch
Judge: Ian Scott
excellent result for Fran and Skyla at her second show !
Withiflor Fairy Tail - 2nd MPB
Paignton Ch Show
Withiflor Book Worm - summer 2017
at seven months
2018
Hants & Sussex Ch Show
Skyla (Fran's W Fairy Tail) short listed for top awards...Judge: Angela McLaren (Bencleuch)
Withiflor Book Worm - shaping-up....
Fran with Withiflor Fairy Tale
..beautiful girl !....
South Wales & Mon Ch Sh 31.03.2018
---
2020
Ringcraft - March ;
Withiflor Tiny Dancer (Pip) - 4 months
Sh Ch Withiflor Rolling Stone JW
ex Withiflor Book Worm
...hopeful !...
Caught up in "Lock-Down" these pups have be confined at home, with not much socialization or ringcraft -
they are having home schooling until they let us out.... !
| | |
| --- | --- |
| | |
| Withiflor Valentine at four and a half months | Withiflor Fine Romance at four and a half months |
Jo - Withiflor Valentine at 6 months
and unshown - he will go to his new home
Sire: Sh Ch Lujesa Impossible Dream ex
Dam: Withiflor Science Fiction
Mia - Withiflor Fine Romance - 6 months
also unshown and who knows when that will be !
Sire: Sh Ch Lujesa Impossible Dream ex
Dam: Withiflor Science Fiction
Withiflor TIny Dancer
at 10 months - unshown
Sire: Sh Ch Withiflor Rolling Stone JW ex
Dam: Withiflor Book Worm
Click HERE to return to the top